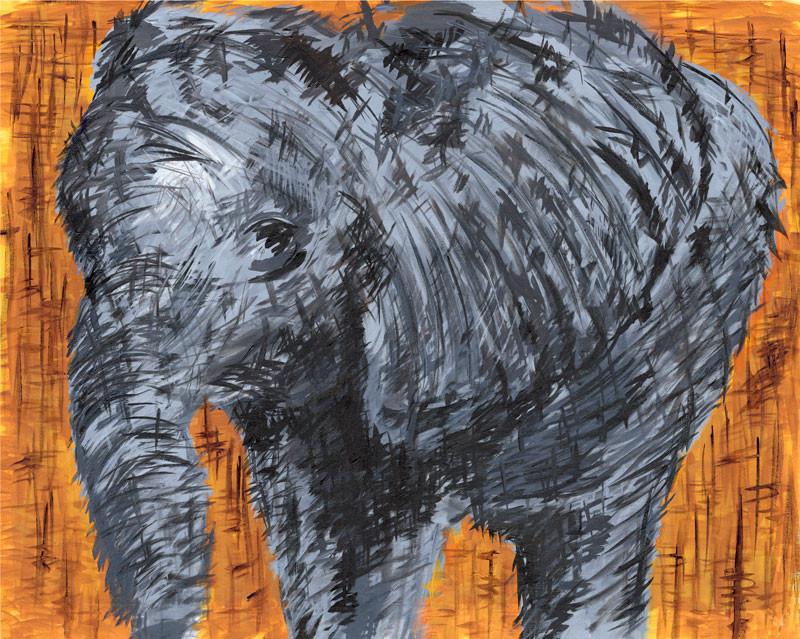 The Kid
2012
38 x 50
Acrylic on canvas
"The Kid" is painting 2 of 14 in the painting series titled, "The Circles of Life", inspired by my first safari in South Africa.  It was our second day in "THE BUSH," as the locals refer to the majestic miles of fertile land. We had been driving for over an hour in search of the "family of elephants" whom were rumored to be in the surrounding areas.
The encounter was beyond magical; it was as if they were greeting us since they stood so poised when we first caught a glimpse of them.  The matriarch of the group was peering at us through the broken tree branches; she wanted us to know she was watching us, as the newest addition to their family, the Kid as I called him, was in close-proximity to us, to interact with this family in close-up was a gift.
Painting 2 of 14 in the series, "The Circles of Life"
Check out the video to see more from the opening night.
Art is
everywhere
I am grateful for the wonderful opportunties allowing me to spin in harmony with the universe growing as I follow my artistic journey.  I am grateful to share with you and the Universe my creations which are interpretations of moments in my life.
My heart, your wall
Whether you are an seasoned collector or a first time buyer, there is nothing that can provide the same joy as knowing you are the only person that has the original piece of art. The same can be said about commissioned artwork in which you, the buyer dictates the subject and muse for the painting and sometimes even the colors. It's a pleasure for me to bring to life your interpretation of amazing moments captured by.